Arena v15 Features
Here is an overview of just some of what's new in the upcoming Arena version 15 release:
Native 64 Bit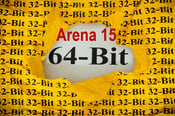 Unlike most simulation software products, Arena will now be a native 64 bit product. This means that Arena can utilize significantly more memory than the 2GB limit of 32 bit solutions. This means that users can now build significantly larger simulation models with Arena to solve a number of problems previously not possible with discrete event simulation.

Language Localization Support
Arena will support different languages based upon the language specified in Windows. The final list of languages is still being determined and will be available closer to the release date.
Animated Network Links
A new animation construct has been added to the transfer animation toolbar. This new feature allows a user to define a network link that graphically displays the state (unoccupied, occupied, or captured) for intersections and zones on a network link. This makes it much easier to visualize and analyze what is happening throughout a network quickly and efficiently. To see animated network links in action, watch the video.
SMARTS and Examples
New SMARTS for Visual Designer
Updates to existing SMARTS
New SMARTS for new Arena template modules
New Template Modules
We are adding a number of new templates to Arena to enhance ease-of-use and overall functionality. Here are some of the new templates coming in Arena v15:
Forklift

A Forklift type has been added to the Transporter module within Arena.
Statistics

The Arena Statistics module and capabilities have been greatly simplified to make it easier to collect and measure the desired statistics related to a simulation model.
Record

The Record module auto-creates instances of the Tally and Counter modules (Statistics template) when specified.
Label & Go to Label

The use of the Go to Label and Label modules are useful when the entity logic flows from one area of the model window flowchart view to another that is not physically next to the first. The use of the connectors across a large distance in the model window flowchart view can cause cluttered connections.
Assign Attribute

The Assign Attribute module is used to assign a value to one or more attributes of either the current active entity or other entities in the system. This module is important for agent-based models. This module eliminates the need for complex expressions to assign attribute values to other active entities in a model.
Search and Remove

The Search and Remove is used to search a queue or a batched entity and remove it from the queue or the batch. This module is very useful in agent-based modeling and makes removing all matching entities from either a queue or a group easy to implement.
Match

The match module now includes the ability to batch entities as soon as the match is made. This avoids the need to perform the batch function separately.
File & ReadWrite

The File and ReadWrite modules have been enhanced to make CSV (comma separated value) input and output data files easier to use. This is useful when you need to write out column headers (when writing out CSV data files) and need to skip over the column header row (when reading in CSV data files). This module allows the user to define the data type without having to know the proper CVS input or output.
Attribute Enhancements
Attributes are now displayed in the runtime elements bar and sorted alphabetically.
User-defined attributes are now displayed at the same level as the Entity attributes.
Dynamic Batch Mode
Allows the user to batch entities immediately if they have waited a specified period of time even if the required batch size has not yet been met.
Highlight Active Module
Add Highlight Active Module to the Run Interaction toolbar to make is easier for users to use this feature.
Connector Color
Users can now define the color of connector lines. This provides an enhanced means of documenting model logic.
Interested in learning more?